How It All Began …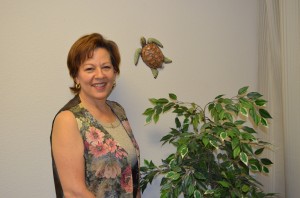 One day in Junior High School, I was horsing around with kids who were bigger than I was (actually they were all bigger than I was and probably still are), and I twisted the wrong way. Suddenly I couldn't turn my neck and had muscle spasms and severe pain.
Fortunately for me, my parents took me to their chiropractor for treatments.  Right now you are probably wondering how they even knew to take me there. When my Dad worked as a Registered Pharmacist on Miami Beach, Florida, he had been told by a chiropractor that it would benefit him to get treatment since he stood all day, and so he did.
Fast forward a few years, my folks got married, moved to South Miami, Florida and Dad saw a young man, a perfect stranger, who was twisted like I had been. Dad decided this young man needed to see a chiropractor. My Dad called Dr. May's office based on location, told him about the young man and Dr. May saw him.  One by one my Dad sent patients to Dr. May and had excellent reports afterwards. From then on, when he saw people who came to the pharmacy where he worked who were suffering after an injury, he would send them to Dr. May.  After many good reports came back to him about Dr. May, he became a patient of Dr. May's, too.  My Dad has now been a chiropractic patient since the mid 1950's.
My Mom was another story! Being an experienced operating room Registered Nurse there was no way she was interested in chiropractic, until one summer she worked in Dr. May's office while his staff took vacations. Soon she too was being treated for a previously untreated 10 year old whiplash injury.
Chiropractic Care Over The Years
As a young adult, I went for chiropractic care routinely for my various problems, and  my sister went in for chiropractic treatment for her monthly menstrual cramps. When I was age 19, my little sister and I visited our older sister who had gone away to chiropractic school. While visiting her, I decided that was the path I wanted to take, too.  While in chiropractic school, one of my colleagues found that the first bone in my neck was fused to my skull.  This is known as Platybasia, a malformed relationship between those two bones. There are often many brain symptoms that go along with that condition and luckily the only symptom I have is sensitive sinuses. I have an uncorroborated reason for this malformation and it happened when I was only three days old!
My Mom had set me down in my car seat at the end of the hallway, then took a phone call from her best friend. Now, my  big sister Robyn – two years old – was real interested in me because my Mom had prepared Robyn well and even practiced with a baby doll before I was born. As the story goes, I started to cry, and my crying sound was coming closer to her, yet remember I am three days old at the end of the hall in a car seat. Well, there I am being carried by the head by Robyn, acting as mother's little helper. My Mom calmly squatted, set the phone down, and said "good girl, Robyn, bring the baby to me."  Thank God my sister didn't drop me, although many times since then, she has wished she had.
I don't know where I would be and how many drugs I would have been on, had it not been for the relief I have received through chiropractic treatment. There is no effective medical treatment for my neck except medications for my muscle spasms or pain, and I am not interested in being medicated.
Yes, I still have limitations; our imperfect bodies often have issues. But there's help! I personally have a chiropractic adjustment weekly. I am human, I have past injuries, and I want to be feeling my best for YOU!
Help for so many people – with chiropractic treatment!
There are many success stories that I could share about chiropractic treatment with favorable outcomes relating to treatment of the back, neck and sacroiliac. My favorites, however, are the ones you don't hear about every day. Here are some highlights:
One female patient had a severely herniated disc with sciatic-like pain in her arm; no medical treatment had helped her and there was a six week wait for an appointment with the neurosurgeon. She came to me in pain while waiting to be seen, and I treated her during those six weeks and the pain went away. She was saved from having the surgery.
I have treated young toddlers with chronic allergies, asthma or ear infections, which cleared up and did not return.
I have treated multiple women with inability to conceive a child because of problems, unbeknownst to them, related to their lower back.  After chiropractic treatment to improve their lower back complaints, the nerve supply to the uterus was improved as well, thereby allowing their bodies to do what they are designed to do! These women later brought their babies to show me!
Call now for effective, gentle chiropractic care!
(727) 539-0075
12855 S. Belcher Road, Suite 1
Largo, Florida 33773
Chiropractor Largo | Chiropractor Clearwater | Chiropractor St. Petersburg | Chiropractor Seminole